Seems like a fever dream after a couple nights' sleep, doesn't it?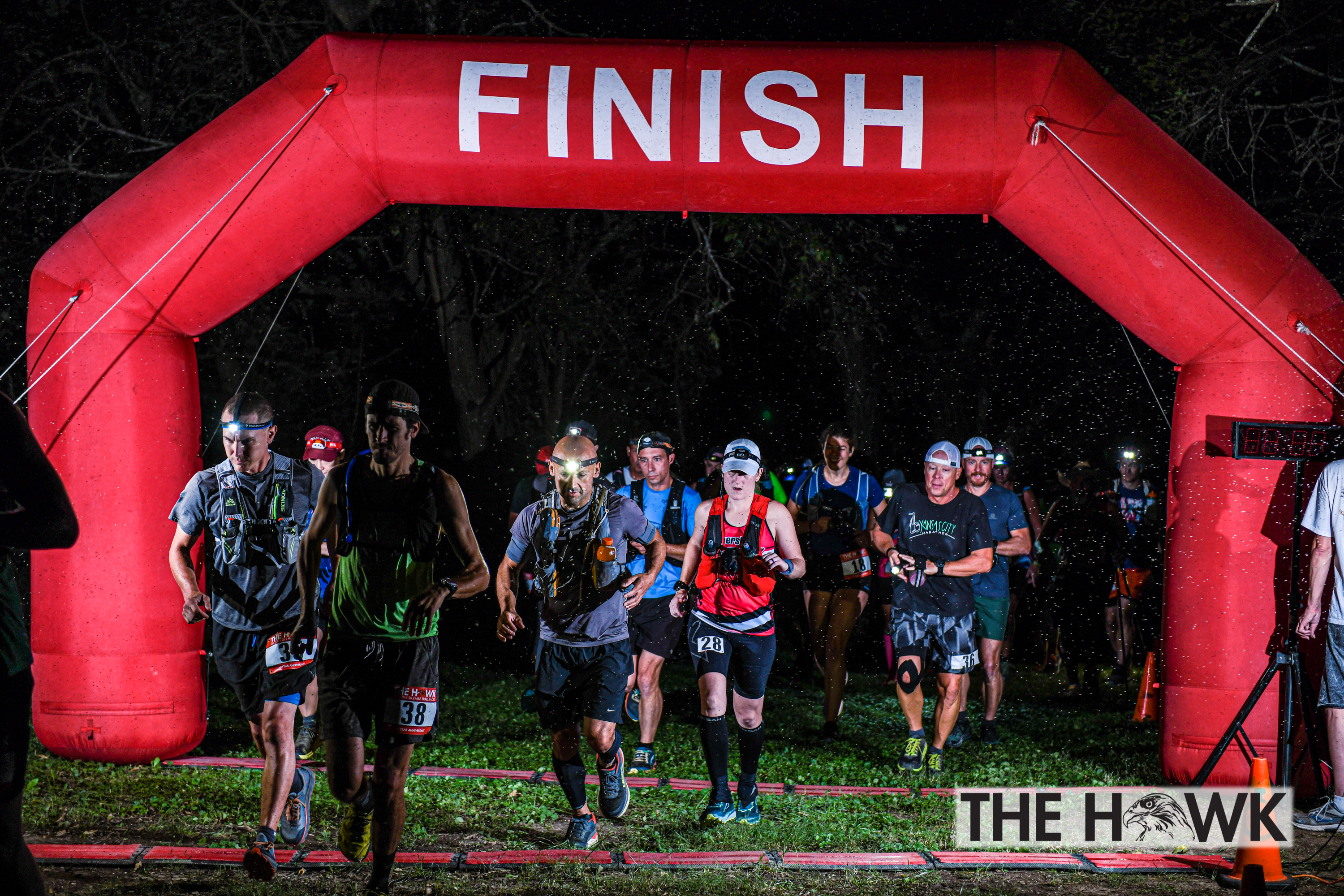 The trails were glorious and devastating for our HAWK runners this year. The terrain. The temperatures. The bugs. It was a lot.
Your race directors will be reviewing the results to make sure we have the most accurate information on our final results. Once we have this done, we will send out a message through ultrasignup and put a link up on the HAWK Hundred Facebook page. If you aren't on the page already, here's the link
Also, White Trail survivors have formed their own support group. …
Meeting date: September 14, 2021 6pm, Lawrence Beer Company They have a great room for this meeting, it was $2 beer night and the brussels sprouts were amazing as always. In attendace: Cara Combs, Jordan Shrack, Mike Miley, Megan Moriarty, Josh McVey, Todd Chandler, Mary Ann Frevert, Dezert Armer
Follow up from Birthday Fatass. Need to send $200 check to Trails Council.
RACES:
HAWK
Was there anything that could have been done to avoid all of the DNFs? Probably not, it simply was way too hot.
Cara provided some data points regarding drop rate, temps of past races.

Eric Viera shares his expertise and tips on how to avoid and handle snakes on the trail. He also dispels some common misconceptions about our reptile friends. 🐍
Board Meeting Minutes for July 7, 2021
Board Meeting Minutes from May 19, 2021
Minutes from the Zoom Board Meeting on February 21, 2021.
Lots of Trail Hawk Grit on Display!
Friends,
Skyline Shuffle has been postponed. Based on CDC guidelines, the original May date and the projected number of participants are too risky. Matt would like to reschedule the race on July 12.
Group runs are temporarily canceled as well. As we move into warmer weather, our group numbers tend to increase. This means we may not be in compliance with proper social distancing.
In the meantime, virtual running is encouraged. If you run on Monday night, remember to treat yourself with a freeze pop. Feel free to grab a cold beverage while lounging in a bag chair after at …
Hi all,
Today didn't start sunny in Lawrence, but pies were made, supplies were ready, timing and volunteers were prepared. Your RDs were ready for weather and making sanitizer.
Unfortunately, around 5:30 pm today, we were contacted by Douglas County that all gatherings over 250 were prohibited due to COVID19. While it is possible that over the course of the day we might never see that number out at the river trails, the possibility is there.
With that said, the community we live in and our dedication as Trail Hawks to kindness to life and land, we made the hard …
Lawrence Public Library. In attendance: President Cara Combs, Vice President Dezert Abrams , Diana Skinner, Bill Loats, Tamara McEwen, Treasurer Josh McVey, Shari Hicks, John Knepper, Ami Weidler-Hyten, Kim Weidler, Megan Moriarty, Jeff Triplett, Gary Henry, Kylee Sharp
Cara called the meeting to order at 8:06 p.m.
South Shore Trails - Diana Skinner
Volunteer coordinator for South Shore Trails. From Kansas Trails Council. 68 miles of trails, from dam to end of Rock Creek arm of lake (6 miles beyond 458)! Needs hikers out there helping maintain trails. We have an opportunity to help out on the other side of …